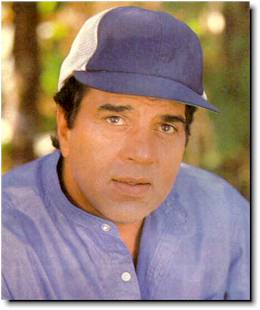 He had a face that announced the man in him and he needed nothing more. So stunning was he in his prime that he was adjudged as one of the top ten men in the world.

Although acting was never considered his forte, critics acknowledged him as a good and versatile actor. His performances in films like 'Phool Aur Pathar', 'Mera Gaon Mera Desh', 'Chupke Chupke', 'Jeevan Mrityu' and 'Sholay' to name a few, are arguably responsible for keeping him in the reckoning even now. "I have never let success go into my head," he maintains. "Success comes and goes but one should always be humble. I haven't forgotten my roots. One should never lose one's innocence. Then you become part of the rat-race. If you retain your humility and innocence, only then can you be one in a million. I have always been honest and people appreciate my honesty and my fair nature.

A village simpleton, Dharmendra always believed that everything is nice and everyone is good. But today, after so many years in the industry and after going through various experiences with people in life he has no expectations whatsoever. "When you don't have expectations, you don't feel let down," he reasons. "And when you don't feel let down, you don't feel hurt." That feeling has helped him cope with the industry's way of functioning.

Unlike some stars, this macho man doesn't believe in interfering as far as work is concerned. "I am a total professional," he says. "I'm also a director's actor. I believe the director's knows best. My job is to act and I think I should stick to that."

However, his greatest weakness in life is boozing and despite several efforts have not been able to give up. "It has been my biggest drawback in my life and it is the only thing that I haven't really been able to overcome," he admits. "It has caused me nothing but trouble. I have struggled all my life to get rid of it but I have never really succeeded. I have tried giving it up several times but only to hit the bottle with a vengeance again. If you construct a sentence on my life on drinking, you will find commas, question marks and exclamation marks but never a full stop."

Another major weakness has been his temper. "I have always been a temperamental person. Everything about me is projected in a big way. I am also very demonstrative. I show my affection in a big way. I get angry in a big way. Like drinking I have tried to get rid of my anger too, but it is too much a part of me now. I have realised anger causes nothing but destruction. In a fit of anger I often act rashly and do things which I regret later." Once he got so angry that he picked up a journalist and bashed him on his head. "Immediately, I was filled with remorse and I regret that incident ever since."

With two successful sons, Sunny and Bobby in the industry, Dharmendra today, can choose to call it quits. But a firm believer in Nehru's Aaram hai haraam slogan, he continues to enthrall the audience with his performances. "Work has always been my stimulant. Since childhood, films have been my dream world and today, I'm a major part of that world. I want to die with my make-up on," he says.