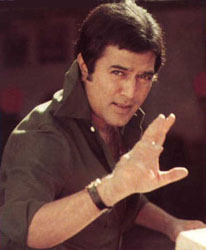 No star before and after him has got the kind of adulation which Rajesh Khanna got from millions of fans as his two films 'Aradhana' (1969) and 'Do Raaste' (1969) ran simultaneously and completed golden jubilee within weeks of each other. The non-descript Gurkha face of 'Aakhri Khat' (1966), 'Baharon ke Sapne' (1967) and 'Raaz' (1967) was transformed into the most adorable face in the industry. He ended Shammi Kapoor era with his special appearance in Shammi Kapoor starrer 'Andaz' (1971) on the tune of 'Zindagi Ek Safar Hai Suhana'.

Born in Amritsar, on 29th December 1942 Rajesh Khanna was christened as Jatin. Kaka, as he was called by friends and his mother Lilavati, went on to create a magic with 'Khamoshi' (1969), 'Kati Patang' (1970), 'Aan Milo Sajna' (1970), 'Safar' (1970) and 'Sacha Jhootha' (1970). Labelled superstar, Rajesh had a major fan following among the girls who swooned at his name, voice and shake of his head.

His popularity continued unabated as he went on delivering superlative and sensitive performances in films like 'Anand' (1970) 'Amar Prem' (1971) 'Bawarchi' (1972). When Rajesh Khanna married Dimple, a girl Raj Kapoor had signed to for a young romance opposite his son Rishi Kapoor in 'Bobby' there were stories of girls attempting suicide. The marriage remained the talk of town for weeks.

However, his popularity declined after his marriage. Exactly like he had done to Shammi Kapoor in 'Andaz' (1971). Amitabh Bachchan routed him in 'Namak Haram' (1973). Interestingly, Amit had a smaller role in Rajesh Khanna starrer 'Anand' but showed sparks of his talent in a brief death scene which belonged to Khanna. 'Namak Haram' saw him swallowing Rajesh Khanna. History repeated itself. Amit was the winner. But a talented Rajesh Khanna survived for a long time till age and politics forced him to a pragmatic retirement. Friend Rishi Kapoor has brought him back with a restrained and polished performance in 'Aa Ab Laut Chalen'.